About Roger Moss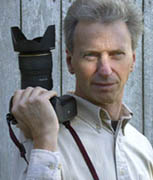 Roger Moss is a professional journalist, photographer and writer, widely experienced in producing illustrated editorial features for travel and ski magazines and location photography for travel guides. His background includes advertising and graphic design.
Editor of Everything France magazine from its launch, he became Editor-at-Large upon his relocation full-time to France in 2002. He now specialises in France and is author of the Loire Valley Guide published by Footprint Travel Guides in May 2010.
Roger has been a Member of the International Advisory Board of Maison de la France since its inception in 2003, a consultative role in which he contributes to decision-making in marketing strategies for France as a major tourism destination.
His passions include cars, guitars, skiing and discovering new places. He has a daughter (Lydia) and lives and works with his wife Julia (another tourism professional) in Poitou-Charentes, SW France.
In June, 2007 Roger and Julia launched
MountainPassions.com
, which has since become the independent online reference for ski and all-season tourism in the mountain areas of France.
Contact Details
E-mail: rm AT rogermoss.com
Please change AT to @ if you would like to email me.
Tel: +33(0)5 49 87 17 21